---
---
---
---
---
---
---
---
---
---
---
---
---
---
---
---
---
---
---
---
" Wild inspiration,
deep processes,
endless workshop ..."
FLUOR 99
---
---
---
---
---
---
---
---
---
---
---
---
---
---
---
---
---
---
---
---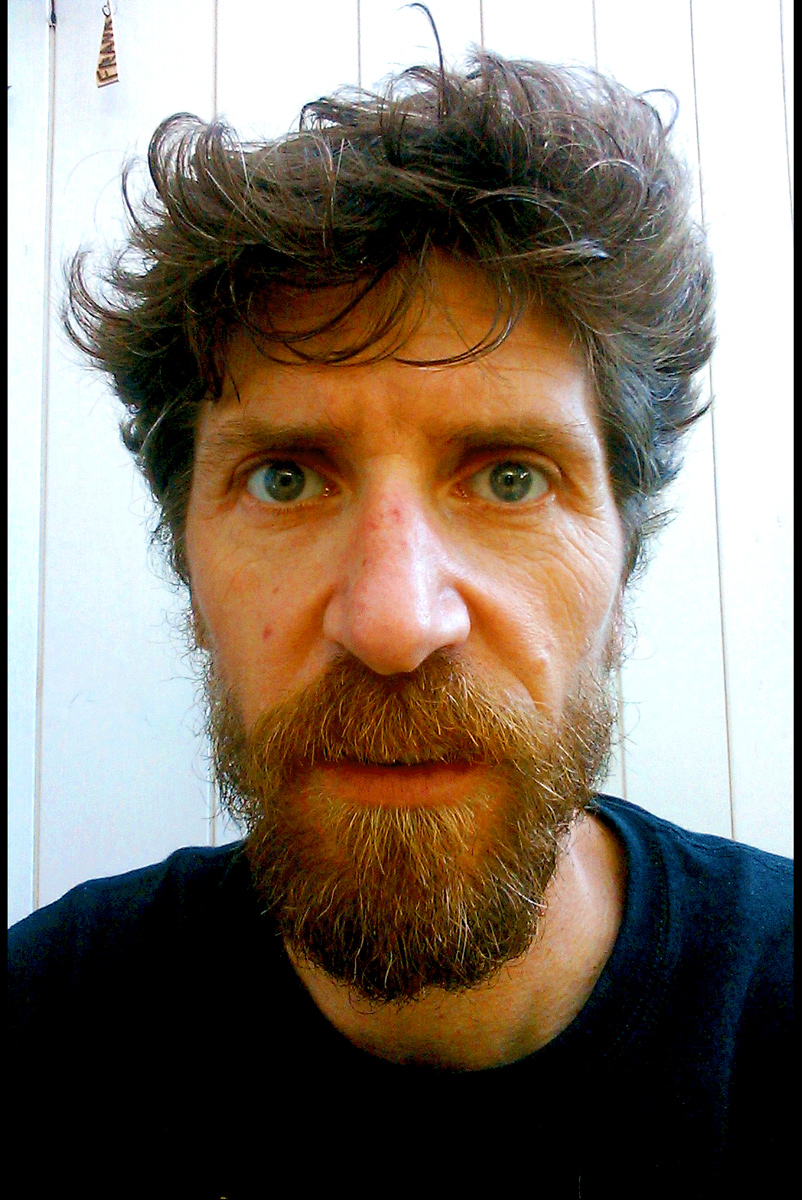 ---
---
---
---
---
---
---
---
---
---
---
---
---
---
---
---
---
---
---
---
---
---
---
---
---
---
---
---
---
---
---
---
---
---
---
---
---
---
---
---
---
---
---
---
---
---
---
---
---
---
---
---
---
---
---
INTERVIEW
DISCUSSION off / FRAGMENTATION of
" …EXTEND ETERNITY."
"
How could I describe myself?
I usually don't answer any questions, but ok."

"I am .. an almost assumed autistic genius .. a complex schizophrenic and multipolar person,
often misunderstood because of too many ideas.
I'm also a daily art freak who mixes things up.
I'm an audiovisual artist, graphic designer, music producer, sculptor and stonemason. Among otherthings.
I currently spend my time remixing ideas like I manipulate images."

"What you will find here is not fantasy, it is poetry.
People should consume more poetry."
"I have always gravitated in artistic circles, balanced between contemporary art, underground culture and the electro scene. I have always wandered around Europe for techno parties and festivals. I was nourished by the many lives that I have already been able to live and today, my artistic endeavors are only a reminiscence of everything that I have been able to assimilate as culture / food.
My father is a painter, and I think he had a certain pictorial influence on me, because sometimes I find the sensations of children when I examine my creations."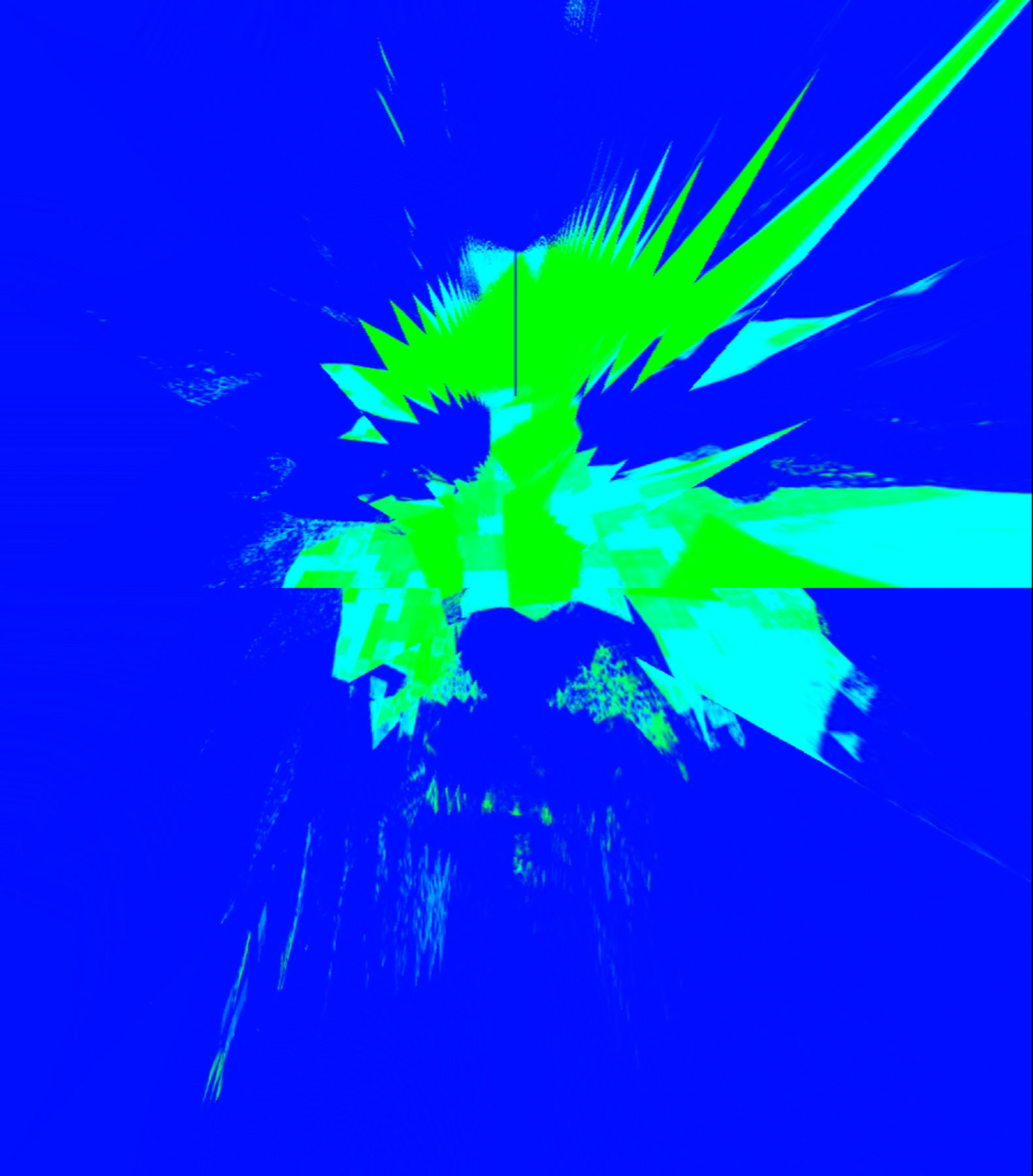 "Freaks fm is the main project, which encapsulates a larger project.
I have always declined my projects under a multitude of fractal identities. Today, it's Fluor 99.
There is a moment when you have to stop chasing yourself."

"When I immerse myself in my work, time stops, and I can go several weeks without speaking to a human.
I can thus get closer to my primitive nature, without interrupting this inert state of cognitive liberation.
My return to the terrestrial world is going smoothly thanks to my fantastic wife.
She is so understanding and supports me in everything I do, she is my number one fan."

"For me, making art is not doing the thing, it is making art which becomes the real purpose of what we make art for, and not the result. the result only serves to make the reason for this process intelligible.
That's what interests me to understand, this duplication of action, in the way we look at ourselves."

"To do my stuff I don't use generative AI tools but very smart softwares all the same.
(less than me I hope)."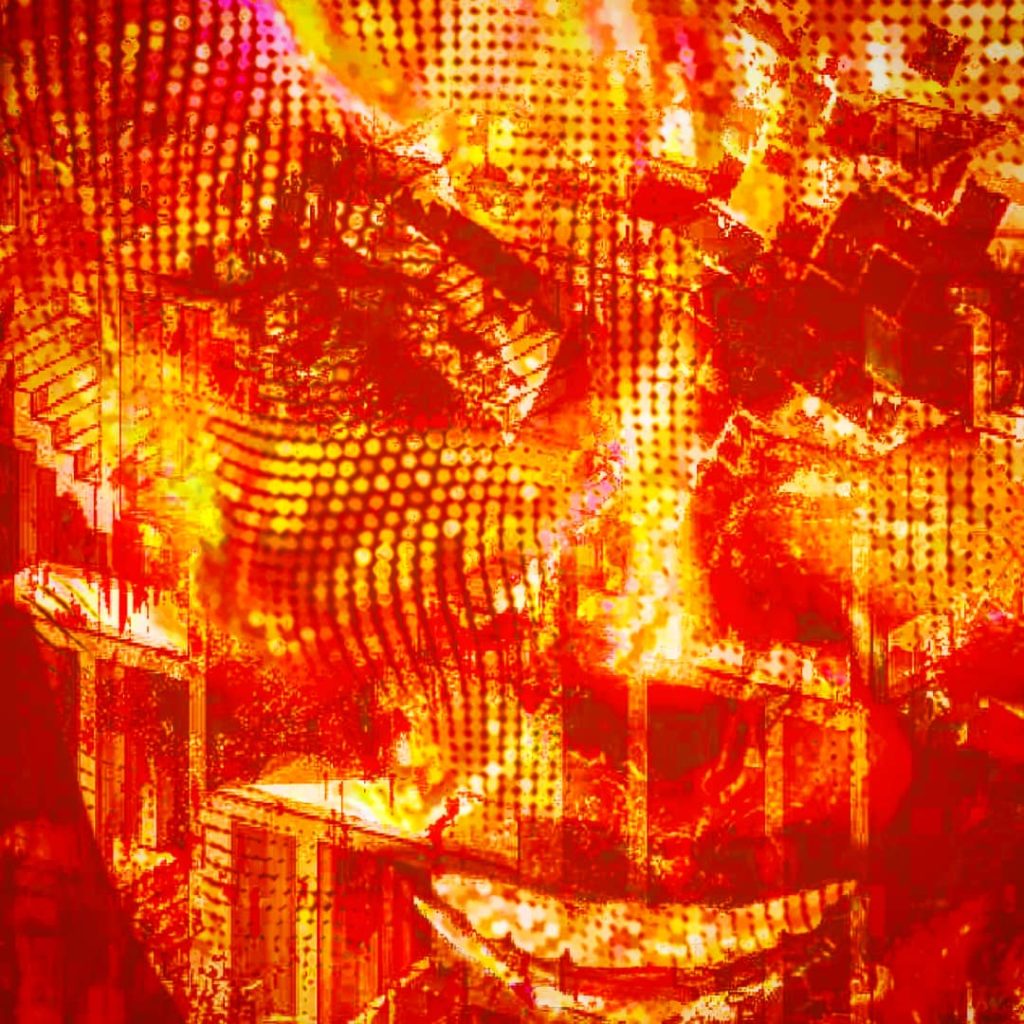 "My way of making art is not obtaining a result, it is the process that is the work. I have the misfortune of not wanting to give up any idea and I have to readjust to what I do based on new knowledge, or last minute finds. Ideas don't have values in themselves if we don't do anything with them. The problem is, thinking is much faster than the laws of earth physics, so you have to pilot ideas and try to organize the biggest heist of crazy ideas ever created."

"I work impulsively and can perform ten actions simultaneously.
It can be counterproductive but I always find better ideas by mixing up the processes."

"I try to do what no AI can understand or emulate in my creation process. This is where the human factor becomes important. I often have to change my nickname to escape my own dogmas. The idea of being able to start from scratch in an unlimited way is a form of eternity, of course."
"How to try to corrupt your own cognitive biases, since it is the machine itself that thinks."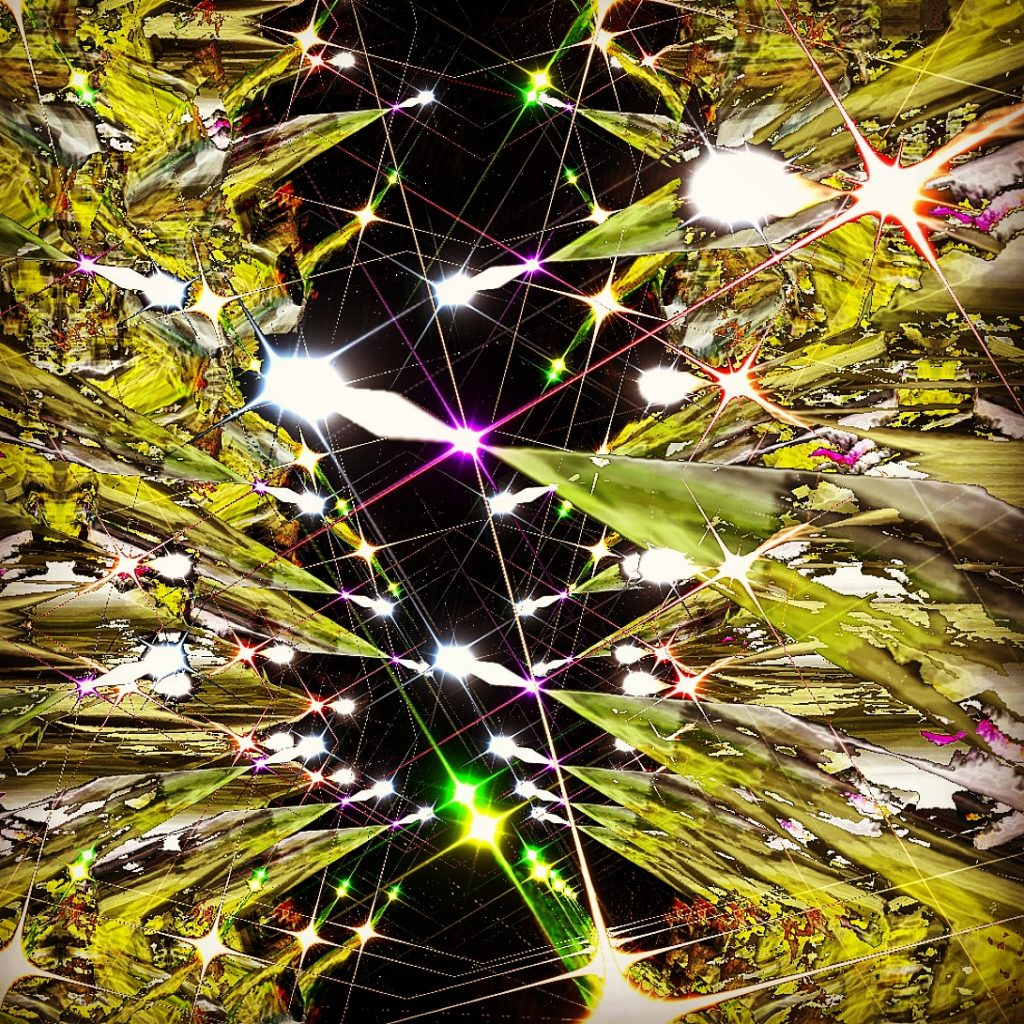 "I like the vertigo of the mise en abyme, its fractal side has something very biological, natural.
I am fascinated by the notions of scales, especially at the astro-physical level.
When I immerse myself in my work, there is an intrinsic interoperability in the process, which is,
I think, the process itself. What I strive to seek is mastery of understanding things and not what they really are. It inevitably escapes us, but that's what prompts us to do them."
"You know this book that tells the story of a writer, who writes a book about a writer who happens to everything he writes, and ends up writing the story of what will happen to him .. well, my report at work is of the same order. The real artist, I would say in the classic sense of the word, is the one who ends up projecting himself into what he does. He no longer does the thing, he becomes the thing. I am often confused when I see an artist doing their work in a planned, methodical and orderly manner, managing their production of works and their career like a business.
It's far too rational for me."
" I think there has to be a time when we have to rely on our own choice of identity and get out of the format.
"For me, mindfulness cannot go without pain. That's why i need enormous psychic resources to perform certain specific tasks, because they are intimately linked to the overall action. I also see it in my daily life.
I believe this is a path that I take on today, because I understood it and integrated it into my creation process: each smallest element contains all the information of the whole. This is what makes, it seems to me, that everything seems coordinated around us, and that there may be no separation between the bodies."
"I also like to see time transform things, often they degrade in a slow and immutable way. What I look for when I create is not this feeling of mastery over things, it is to have this sort of opposite effect on them precisely. I love being at the heart of this moment when enthropy watches me, puzzled.
But she doesn't care. she knows very well that I would end up doubting."

'I constantly try to turn this frustration into pleasure, and I try to determine what really stimulates me, apart from this search for aesthetic mastery in which I sometimes end up losing myself.
I often understand too late that the goal will have been a series of self-fulfilling / destructive prophecies."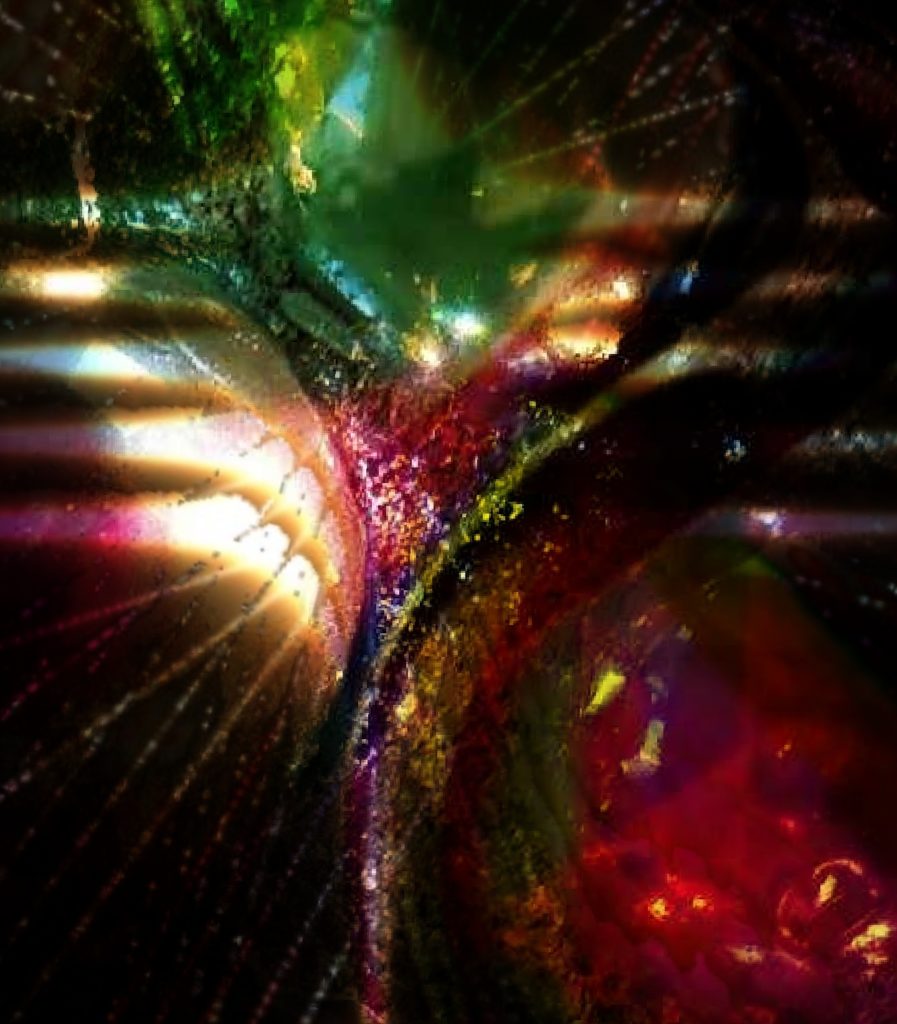 "I like to be halfway between the abstract and the obvious.
There is always a delicate balance between what is depicted and what the viewer wants to see".
"I try to absolve all symbolism in the common sense of my compositions, in order to decondition my gaze.
because I don't like to refer to common sense."
"The story? what a story? there is no story, apart from the one we tell ourselves.
I like to be where I am not expected. Elusive."
"For me, a free artist should be able to escape dictates.
Yet it is never easy not to fall into the aesthetic cliché.
To understand what we see, we have to understand ourselves, our view of the world depends on it.
But the first question is:
Are we talking about the same thing?"

"By creating, I offer freedom, that of the time of dreams.
We must consume this time, poetic and inspiring.
It's a way to have an impact on the world, to respond to it."
"In my work, I try to reconnect the primitive look to things. the foundation of what is.
I try to unite the multiple fragmentations of this simultaneous globality, whether social and cultural, but also purely biological and physical."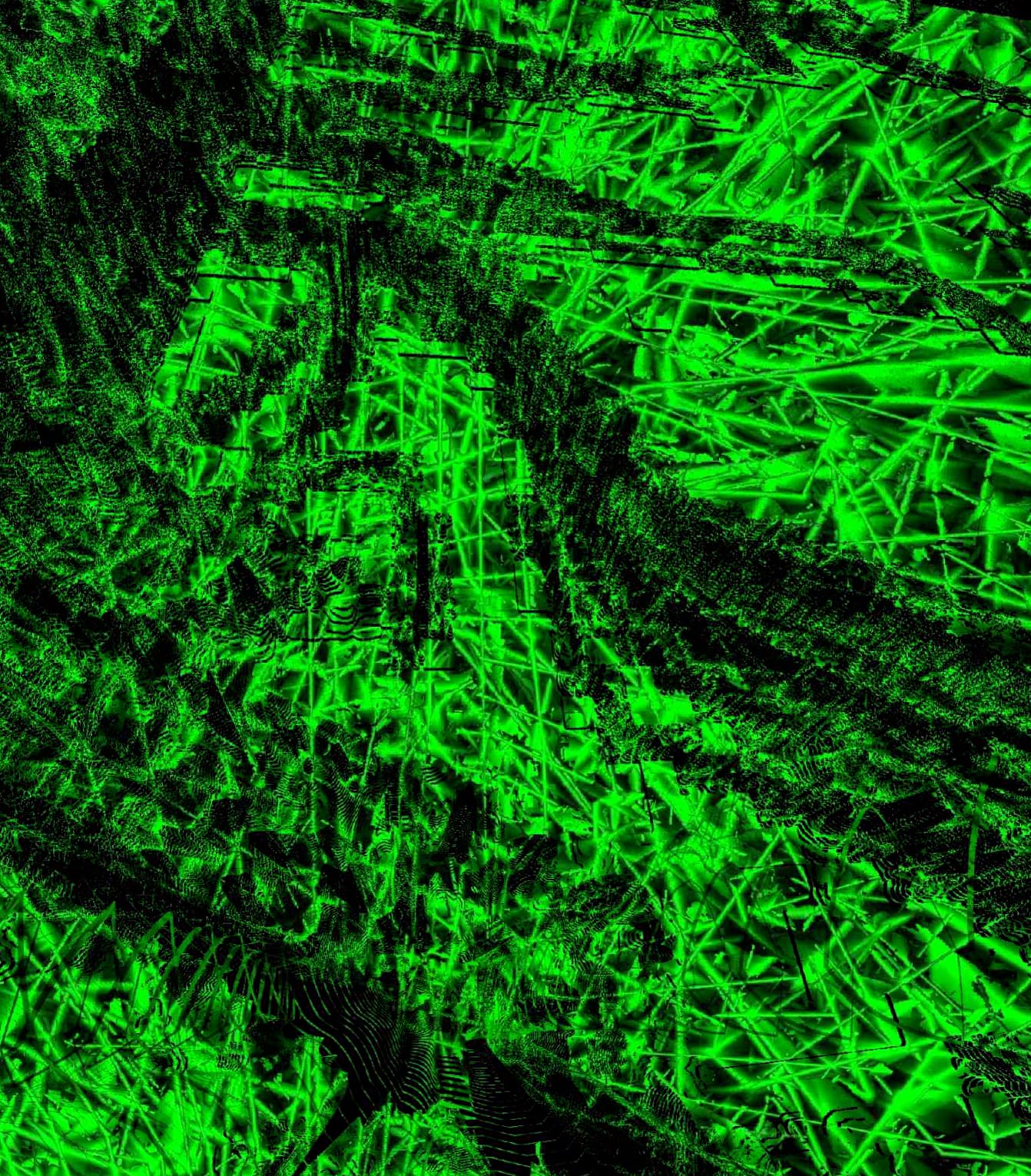 "The trap for me is always to become a slave to what I do in terms of creativity.
I am tortured by the fact that I have to limit my ideas to what is technically feasible, whether in terms of physical resources or the degree of use of the tools.
The real end goal of this impulse is never well defined.
The primary intention often reveals to me a deeper and more complex motivation which arouses my curiosity, and prompts me to commit myself.
I think showing things is not enough. You have to think them to make them exist."

"The hierarchical prioritization of our choices necessarily determines the sacrifices of all the other possibilities.
Out of respect for the idea, I try to always leave it a space for expansion, an amplitude.
Doing things also pushes us to our limits, and they are sometimes hard to come to terms with.
We are ultimately only denatured animals."
"The simultaneity of the world is dizzying.
What machine are we in the cogs?
If the function creates the organ, then what function are we the organ then?"
"DNA is cryptologic in essence, and we're just DNA, so we're just crypto art! "
(Laughs)
…
credits: METAFREAKS MAGAZINE (@metafreaks.crypto).
---
---
---
---
---
Future articles :
"FLUOR 99 might just be the hardest working man in CRYPTOART and IAAT Industrial Analogic Angular Techno. Each new image brings a little more crypto-confidence and good echoes, with little forcing or a few secret commissions.
But he once again demonstrates the depth and biodiversity of his influences, whether kinematic or kinetic, and it is a shocking hymn to the warehouse of the '80s experimental room' that he delivers here.
---
"Freq aka FLUOR 99 is teaming up with @JOIEMACRABRE for this offbeat release on OPENSEA. Imagined between two worlds, the project is inspired by a graphic heritage at its creative peak. However, the informed gaze of these 2 artists is firmly focused on the fantastic triggering of light and this is visible on the pieces (works, objects), like a digital mist, an etheromogeneous amalgam of glitches, which freezes your blood. A flashy psycho effect reminiscent of digital jam and which exudes unbridled creativity."
---
"Its footprint is well recognized by those who use some of the craziest digital tools of recent years.
And that sinister hypnotist from FLUOR 99, you can bet he still has some pretty crazy non-cyclical imagery, like a pixel melody inducing a TRANSDIGITAL tunnel. Then there is this electromagnetic charge, applied to the image and where we find, at its full speed, 'King of Random' style, the minimalist and dystopian effect of this singular talent. "
---
"The fourth installment of the eponymous Objekt stepper series atmospheric and bewitching, with the supple and sticky color of the French-born digitalist FLUOR 99 underlying the swirling hues, digital and highly hallucinogenic gravel scribbles to create the techno break beat track. more distinctive since the project. On this rare occasion"